NOVEMBER 2016 REAL ESTATE MARKET NEWS
This market doesn't seem to be affected by the new Mortgage Rules that were put into effect last month. Condo Apartments, being the most affordable home type in the GTA and City of Toronto is most in demand. Prices were up by almost 13%.
High Home Prices and Low Inventory
Even with these new Mortgage Rules in place, the Real Estate Market in Toronto and GTA, is still experiencing a year long problem of over abundant Buyers in the marketplace and insufficient inventory
October 2016 The Average Sale Price of Homes in the City of Toronto:
         Detached                   $1,303,339   Days on Market 12
       Semi-Detached         $   902,137   Days on Market 11
       Condos                       $ 459,199    Days on Market 22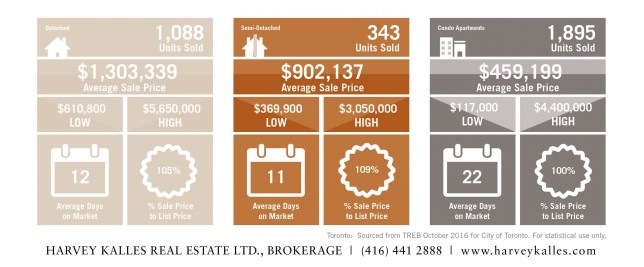 For more Detailed Information, Read Harvey Kalles Monthly Real Estate News for November 2016 below:
Thinking of Making a Move?
Click here to Start your HOME SEARCH NOW
Click here for your FREE NO OBLIGATION HOME Evaluation