The 35′ Clock Tower at the Head of the Town Square
Shops at Don Mills Toronto
Although The Clock Tower has stopped telling the time, the Homes at the top of the Tower are not representative of Don Mills Homes in particular, the Artist Doug Coupland, created it to represent a "Super Nova, a piece in which a cosmic explosion occurs and houses are sent out into the universe to colonize outer space" says Mr. Coupland. "It's a poetic and quite lovely haiku of a moment in Canadian history."
 TORONTO DON MILLS CLOCK TOWER – THE SHOPS AT DON MILLS
Just because these Homes with the Carports and Bungalow Styles look like the 1950's Houses in Don Mills, they actually are from CMHC (Canadian Mortgage & Housing Corporation) Floor Plan Catalogues.
Don Mills Community prides itself in being Canada's First Planned Community which was financed by Businessman E.P. Taylor and master-minded by Macklin Hancock, an Urban Planner.  Some of the Modernist Architects such as Henry Fleiss designed Don Mills Bungalows and Side-Splits to blend in with the topography of the area.  
THE SHOPS –  DON MILLS
The Shops at Don Mills where the Clock Tower 'Towers' over the Town Square, is an Urban Shopping experience and charming, vibrant, one-of-a-kind European-style village, has literally put "DON MILLS" on the map.   This outdoor Shopping Centre is home to many Restaurants, Retail Stores and Many Outdoor Activities in the Square such as Skating in the Winter, Concerts in the Summer.
TOWN SQUARE – SUMMER CONCERT
The Shops at Don Mills, is now home to an array of New Condo and Loft Residences. Cadillac Fairview / Fram Developments – "Reflections", "Liv Lofts" and now "Flaire" will be an wonderful additions to this fast-growing cosmopolitan area full of Designer Boutiques, Gourmet Restaurants and Specialty Shops.    This is another master planned vision coming to life for The Shops at Don Mills. The next focus is on the future building "Flaire", the third of seven planned residences.  With such a close proximity to Downtown and Out of Town – major highways and public transit, the Value of these new Condos will be exceptional.
CONDOS AT THE SHOPS
                  85 The Donway West – Reflections                      75 The Donway West – Liv Lofts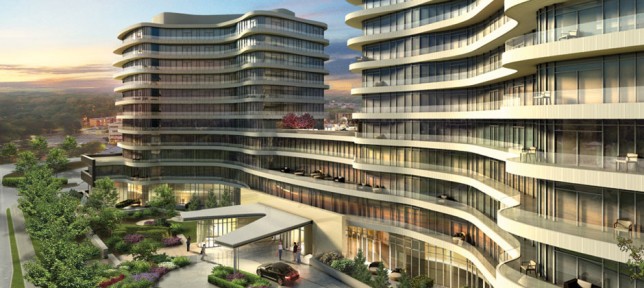 Flaire – Finishing Soon
Looking for a Condo in Don Mills Toronto CLICK HERE
Looking for Pet-Friendly Condo in Don Mills CLICK HERE
– See more at: http://www.veronicakey.com/The-Clock-Tower-at-The-Shops-at-Don-Mills-Toronto#sthash.D452LD0Q.dpuf