The Shops at Don Mills to get $21-Million Makeover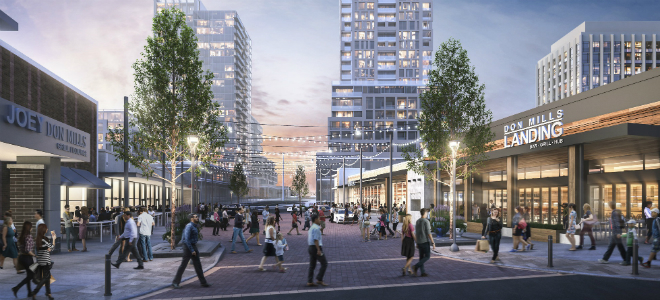 Cadillac Fairview announced today a $21 million revitalization / redevelopment plan for its CF Shops at Don Mills.
Included in the plans are improvements or a "pedestrian facelift", which will include the widening of sidewalks, the installation of cobblestone roadways and a catenary lighting system. And the parking areas, will include digital signs that will display the amount of cars currently parked in the lot. Pedestrian walkways are also being widened, and a new pedestrian access to the 1,000 stall parkade will also be added, as well as, an expanded entertainment zone and new landscaped spaces.
The redevelopment at Don Mills will also be heavily focused around leisure and entertainment spaces to give patrons more places to congregate and spend time at the location.
The property will also feature new furniture and seating areas, art installations and the landscaping of green space, including a more artistic water fountain.   In addition, public spaces will be expanded for community members and shoppers to congregate. A second entertainment experience zone at the junction of Leadly Lane and Karl Fraser Road will be added to increase regular programming and entertainment onsite.
"It is important to enhance this experience," said Niall Collins, Senior Vice President, Development, Cadillac Fairview.
Collins stated CF is trying to create a "community" rather than just a shopping experience.
"Through property investment, we are bringing more of what guests love to the centre, creating an inviting and accessible space where everyone can spend the day and come together year-round," he said.
Though the shopping centre is relatively new, (the mall opened in April 2009) Cadillac Fairview is investing in the centre as part of a larger development strategy for the area.
The group currently owns 600 residential units in the area, with 1,500 yet to be developed, according to Collins.
Completion of construction is slated for spring 2017.
sources:  Carmine Apolito, CP24.com and REMI Network
Don Mills – An Amazing Location close to: Schools; Edward's Gardens; Sunnybrook Park and many other Parks; The Fabulous Shops at Don Mills.  Minutes to  TTC and Subway; to/from Downtown and Major Highways.
Click Here For More Information about Don Mills Toronto
Click here to Start your HOME SEARCH NOW