JUNE 2017 – Inventory Increasing!
As the Dog Days of the Hot Summer have started, the Real Estate Market in Toronto and GTA, is experiencing a Cool Down in some respects.  For June 2017, the volume of new listings has increased since the Ontario Government made their announcement on their Fair Housing Plan.  Yet, the number of Sales has dropped by 37.3% from last year same time.
Buyers are slower to buy, taking their time to find the right home, especially with the larger selection of properties on the market.  Some Buyers are just 'Sitting on the Fence' waiting to see if there is any further impact from the Government Policy.
This market has become a more 'Balanced' Market, where Sellers are becoming more realistic with their pricing and expectations.  Where negotiations are taking longer and therefore, properties are taking longer to sell.  We are not seeing the 'Bidding War' frenzy of earlier this year, as those days may just be over, for now anyway.
The Average Sales Price over all,  was up 6.3% from last year this time to $793,915k and below are the Central Toronto Sales Prices:
        Detached                   $1,386,524    Days on Market 14
        Semi-Detached        $  987,404    Days on Market 12
        Condos                        $ 552,679    Days on Market 15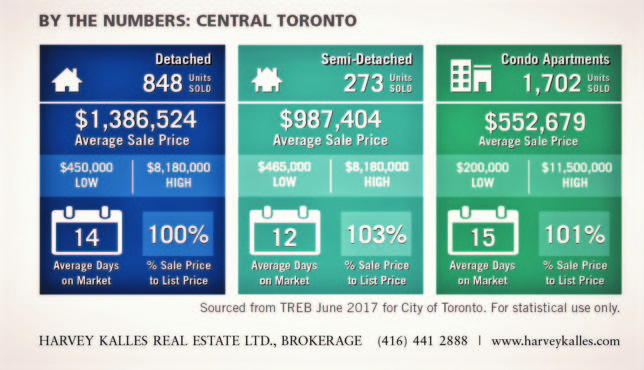 For more Detailed Information, read Harvey Kalles Monthly Real Estate News for July 2017 below: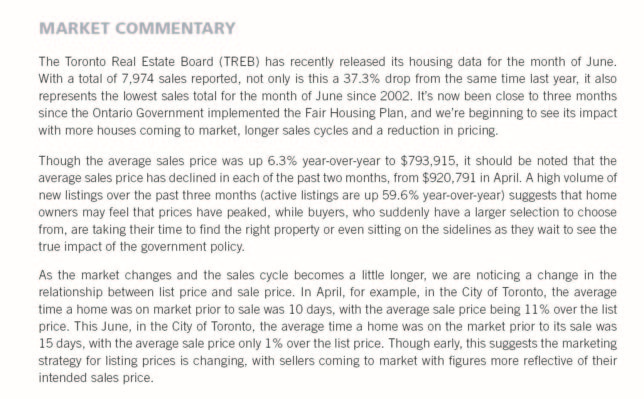 Thinking of Making a Move?
Click here to Start your HOME SEARCH NOW
Click here for your FREE NO OBLIGATION HOME Evaluation