AUGUST 2016 Continued with
Lack of Supply and Pressure of Demand
As the Dog Days of the Hot Summer come to a close, the Real Estate Market in Toronto and GTA, is still experiencing the Heat of Summer as in, a continued Hot Market.
Detached and Semi-Detached Home Prices keep climbing especially in Toronto, and the Condo Market is not far behind.  The Toronto Condo Sales had a 9.8% growth over last year.  Condos are becoming the new Demand of choice as Detached, Semi-Detached and Townhomes are becoming out of reach for Buyers financially.
Toronto Real Estate continues to be sought after, with Low Inventory and Aggressive Buyer Demand.  What's driving the Buyers? Affordable Lending, Good Local Economy and, as The Globe and Mail Reports Toronto is world's best city to live in, Economist study says .  This study of major metropolises was done by The Economist Intelligence Unit.  
Why isn't there more Inventory on the Market?  Sellers are not willing to move, and often still have children living at home.
        Detached                   $1,206,637    Days on Market 16
        Semi-Detached        $  774,700    Days on Market 13
        Condos                        $ 446,612    Days on Market 25
For more Detailed Information, Read Harvey Kalles Monthly Real Estate News for September 2016 below: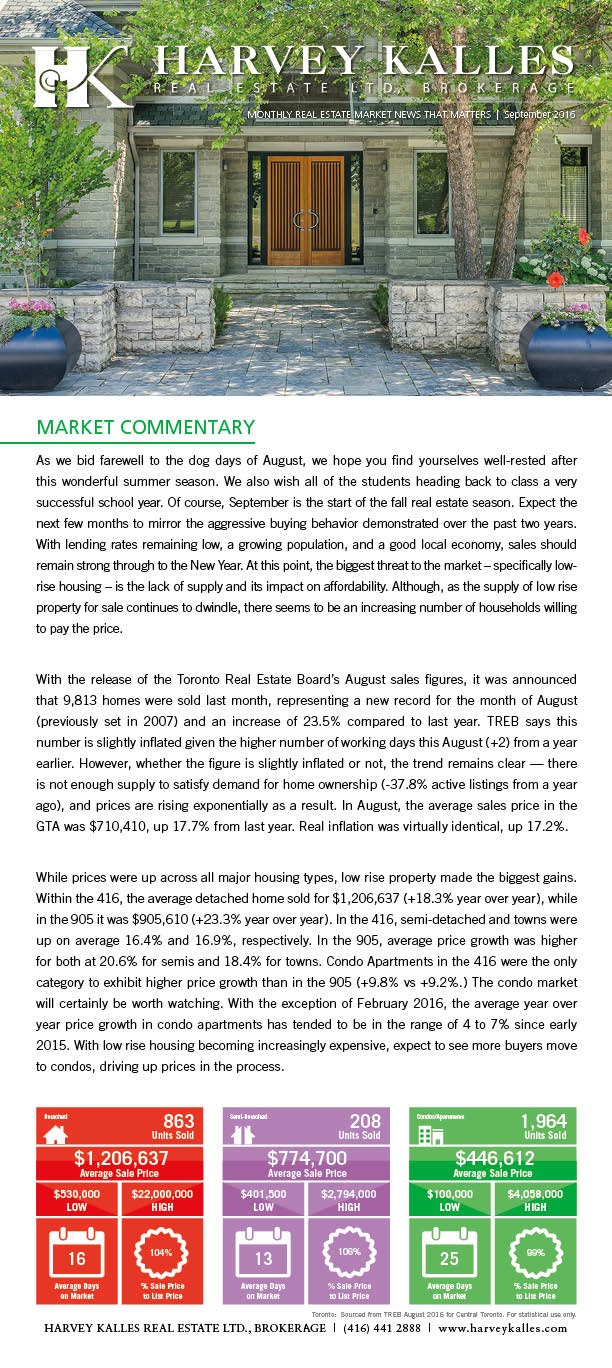 Thinking of Making a Move?
Click here to Start your HOME SEARCH NOW
Click here for your FREE NO OBLIGATION HOME Evaluation